Warehouse high speed door
From:Seppes Author:Lilian 008618151073083 Publish time:2020-04-23 14:23 Clicks:6
Opening method
1. Geomagnetic induction: It can sense metal objects such as vehicles and automatically turn on and off; the irradiation range can be freely selected.
2. Radar induction: Sensing objects moving around, such as people and forklifts, the range is 3-5 meters.
3. Pull rope switch: By pulling the rope, the door can be opened, and it does not need to be manually closed when closing.
4. Remote remote control: Easy to enter and exit by remote control handle.
5. Airbag: protects personnel from being hit or accidentally at the bottom of the door.
6. Light curtain protection: It is lengthened on the basis of photoelectric protection; larger area and better performance.
7. Interlocking:It can be linked with various equipment to interlock between the two doors; the door can be opened halfway by people and fully opened by cars.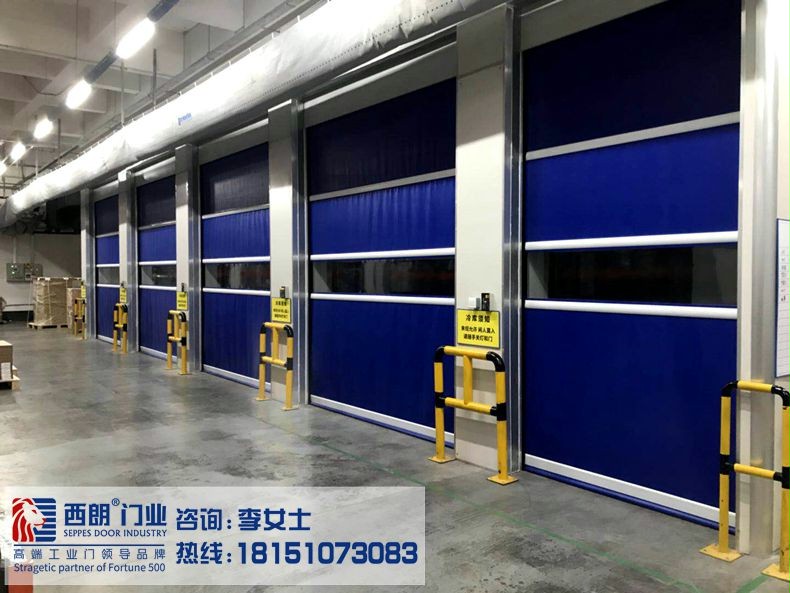 Product configuration
1. Product type:A type of intelligent fast rolling shutter door can be used as a protective door to interact with various equipment; it is mainly used inside the clean workshop building.
2. Applicable environment:1) Isolation and protection of machinery and equipment; 2) Light industry, food workshop, pharmaceutical factory workshop, mechanical equipment, etc .; 3) Inside special environmental passages, double doors can be interlocked, and roller shutter doors and lift doors are used for day and night.
3. Appearance material: High-protection cold-rolled steel plate after baking; the thickness is between 2.0-2.5mm, which is effective against dust, corrosion, and rain.
4. Guide rail brushes: The quick door guide rail is thickened and has 2.5 thick, slot-type brushes fixed on the guide rail, which can well protect the internal space environment.
5. Power requirements: 220V or 380V, 50HZ, 0.75-1.5KW;Can also be customized according to requirements
6. Wind resistance type: The built-in wind resistance ribs of the quick door are connected in sections for wind resistance, and the exterior is beautiful and the wind resistance is also good. This wind-resistant connection makes it easier to change the curtain and wind-resistant rod.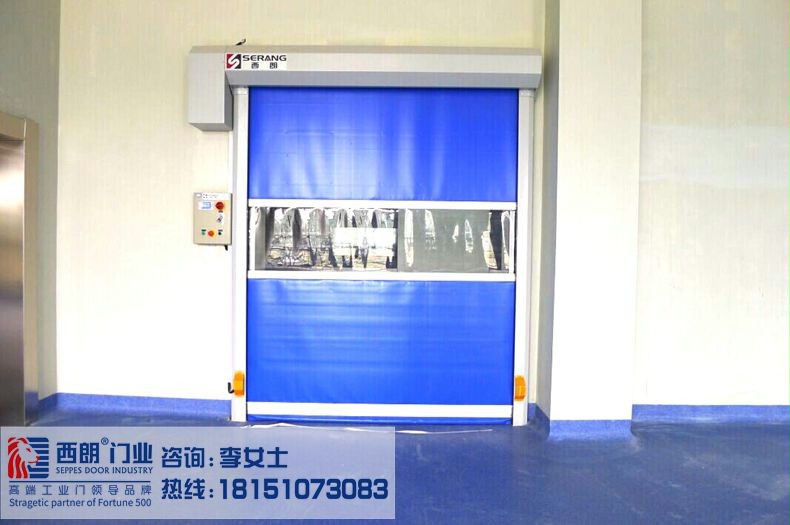 1. Operating temperature:—40℃~80℃
7. Safety device: The quick door is equipped with an infrared photoelectric protection device, which can keep the personnel from closing when the traffic is passing. The bottom safety airbag can protect people from being pressed when they suddenly enter the door. Light curtain, length can be made.