Fast rolling door used by conveyor belt linkage
From:Seppes Author:Joy:17715186985 Publish time:2021-03-22 17:11 Clicks:6
With the upgrading of industrial production equipment, many large companies now use intelligent production equipment to produce products, such as automatic conveyor belts, three-dimensional warehouses and other intelligent production equipment. The installation of automated equipment can effectively improve production efficiency and save labor cost. Today we are going to introduce the automatic fast rolling door used in conjunction with automatic conveying.
The picture below is: the real shot of the conveyor belt linkage fast rolling door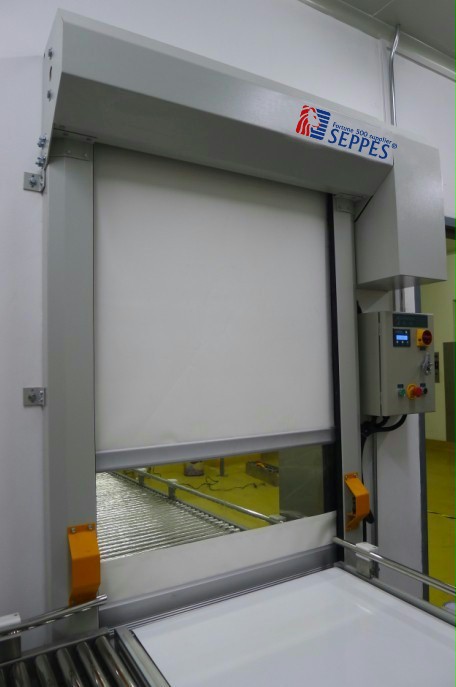 Some factory-manufactured products need to be transported to the warehouse for storage after production is completed. However, between the production workshop and the warehouse, it is necessary to maintain a relative seal and isolation, but it is necessary to consider the product and need to be transported frequently. The belt is transported to the warehouse. At this time, the fast rolling door plays a role of isolation and sealing. The conveyor belt-linked fast rolling door is specially designed for such use needs. The door curtain can be opened and closed at high speed. The fast rolling door adopts a PLC control system. Linking operations with different equipment can greatly improve production efficiency and avoid unnecessary waste of resources.
Parameters of fast rolling door:
1. Full transparent PVC film thickness: 1.5mm-2.0mm
2. Operating temperature: -30℃~+70℃;
3. Tensile strength (warp/weft): 5700/5100 N/5cm;
4. Tear strength (warp/weft): 900/80 N;
5. Fire rating: French standard NF-P92-503 M2 or German standard DIN 4102 B1
6. ​​​​High-density industrial base fabric imported from Europe (French Greek Transport), thickness: 0.8mm-1.2mm, the unique fine-porous fiber structure of the curtain fabric has better air permeability, wear resistance and tear resistance.
7. The door frame and door box are made of 2.0-2.5mm thick high-quality cold-rolled steel structure, high-quality baking and painting process; 2.0-2.5mm thick stainless steel or 3.5mm high-strength 6063 anti-oxidation matt silver industrial aluminum alloy column。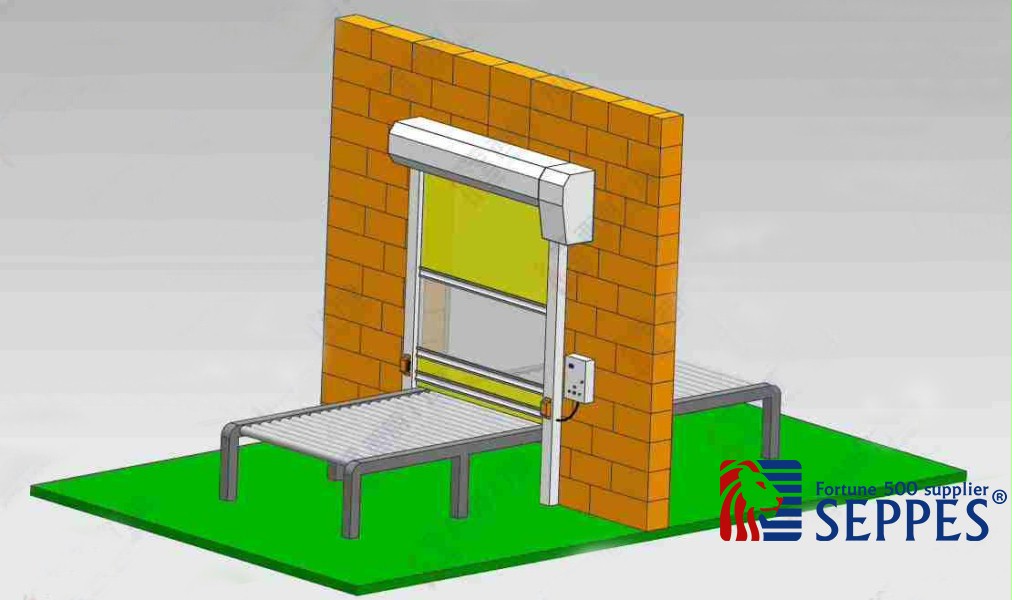 Suzhou Fast Rolling Door Manufacturer (SEPPES) focuses on the production, design, manufacturing, sales, installation and after-sales service of a series of industrial doors such as fast rolling doors, electric lift doors, loading and unloading platforms, industrial door seals, electric rolling doors, and cold storage insulation fast doors.