Benefits of High Speed Doors
From:SEPPES Author:Nova JEE-008618151073083 Publish time:2021-07-30 17:01 Clicks:13
An industrial door that opens and shuts at high speeds has a host of benefits that can be applicable to a variety of different industries. This article is going to highlight these benefits, and explain why your business could be greatly improved by acquiring a high speed industrial door.
Here at SEPPES Industrial Doors, we install and maintain High Speed Doors across UK,US,HK,CA,JP and FR.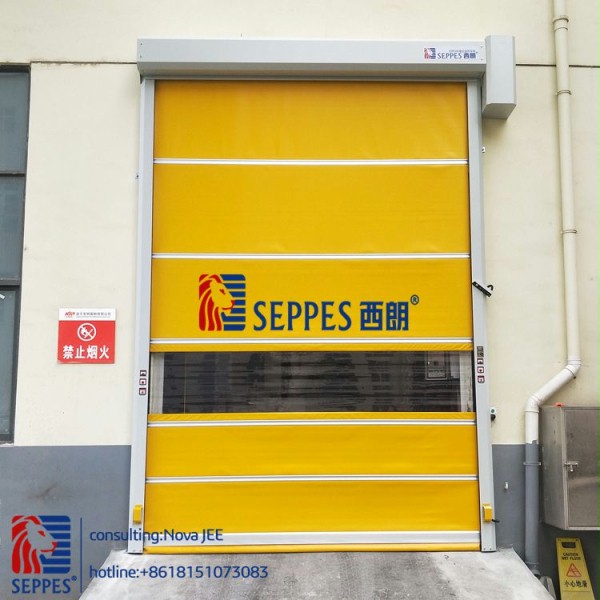 Check out our list of the 5 benefits of High Speed Doors below:
1. Security
Security is paramount to so many businesses these days. Industrial doors that close at high speeds reduce the amount of time any tailgaters or opportunists have to sneak into a building. This, coupled with the fact that high speed industrial doors are extremely robust and durable, make them a premium choice for keeping a business secure.
2. Ease of access
The busy nature of businesses often demands high accessibility to keep operations running smoothly. Simple doors — or even lack thereof — can be an option, but these usually mean compromising on security.
High speed doors provide both ease of access and high security. Their rapid opening allows workers and vehicles to travel in and out of room without holding up operations
3. Reduced heat loss/energy efficiency
Keeping an area contained with closed doors prevents warm air from escaping or cold air from entering. By installing a door with high open and closing speeds, you are reducing the risk of a room dropping in temperature. This can be a significant factor in the energy efficiency of your business.
By installing a high speed door, and therefore preventing the room from becoming cold, not only are you helping create favourable conditions for your workers, but you will also be saving money on your energy bill. This will help the finances of your business, while also reducing its environmental footprint.
4. Preventing contamination
Preventing unwanted entities from entering your premises extends beyond humans. Increasing the speed of your door closure will greatly reduce the chance of any vermin, such as rats, from entering and possibly contaminating your premises. Air pollution, particularly in industrial properties, will also be contained better and won't spread throughout the premises.
5. Reduced noise
Noise involving heavy machinery, vehicles or other workers can be filtered out using high speed doors. Being open for a much shorter amount of time than would be experienced using standard industrial doors means that noise pollution is limited and working conditions will be generally quieter for longer.