What is a fast rolling door
From:SEPPES Author:Nova JEE-008618151073083 Publish time:2021-10-28 15:36 Clicks:10
It has many functions such as heat preservation, cold preservation, insect prevention, wind prevention, dust prevention, sound insulation, fire prevention, odor prevention, lighting, etc., and is widely used in food, chemical, textile, electronics, supermarkets, freezing, logistics, storage and other places.
It is extremely high to meet high-performance logistics and clean places, and save energy, high-speed automatic shutdown, improve operating efficiency, create a better operating environment and other advantages.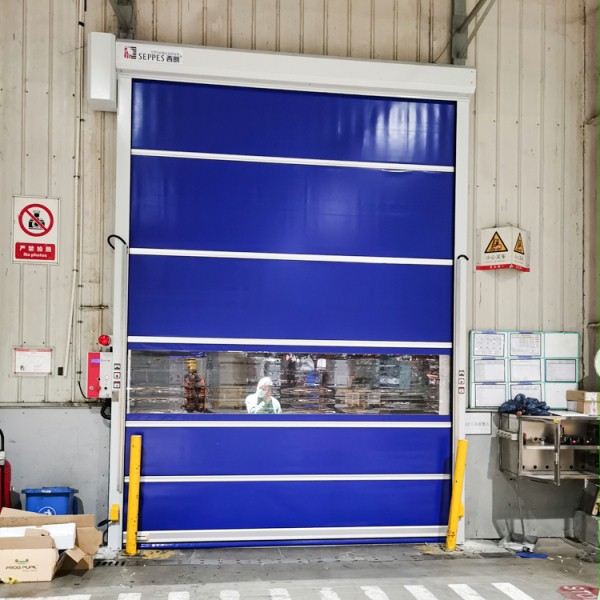 Precautions for the use of fast rolling doors:
Fast rolling shutters are an important fire protection measure for fire zoning and fire partitions in public places. It is a fire-fighting product with integrated functions of machinery and electrical appliances, so the installed fire shutter should always be in a normal state.
During the use of fast rolling doors, special equipment should be used and kept by a dedicated person, and a certain basic knowledge of electricians and machinery should be provided.
During the operation and use of the fast rolling door, the operator shall not leave the operating place without authorization, and shall pay close attention to the opening and closing situation and implementation. When opening and closing, no one is allowed to stand or walk under the rolling curtain. In order to prevent the trip switch from malfunctioning, shutter jamming, motor blockage and other accidents.
The fast rolling shutter door should establish a regular maintenance system, and do a good job in the maintenance record of each rolling shutter, and keep it on file.
Roller blinds that do not open and close for a long time must be maintained once every six months. The content is to eliminate dust, paint, and lubricate the sprocket and roller chain of the transmission part.