Several advantages of industrial lift doors
From:SEPPES Author:Nova JEE-008618151073083 Publish time:2021-10-29 09:53 Clicks:7
The industrial sliding door has a unique opening method, which can be designed according to the internal environment of the plant. The door panel is made of 0.39mm double-layer galvanized color steel plate, and the middle of the door panel is filled with German Bayer polyurethane hard foam, which has the effect of heat preservation and heat insulation. . The thickness of the door panel of the industrial sliding door is generally 4 cm. The thickness of the door panel of the industrial sliding door can be increased according to customer requirements, and the thickness can be 10 cm.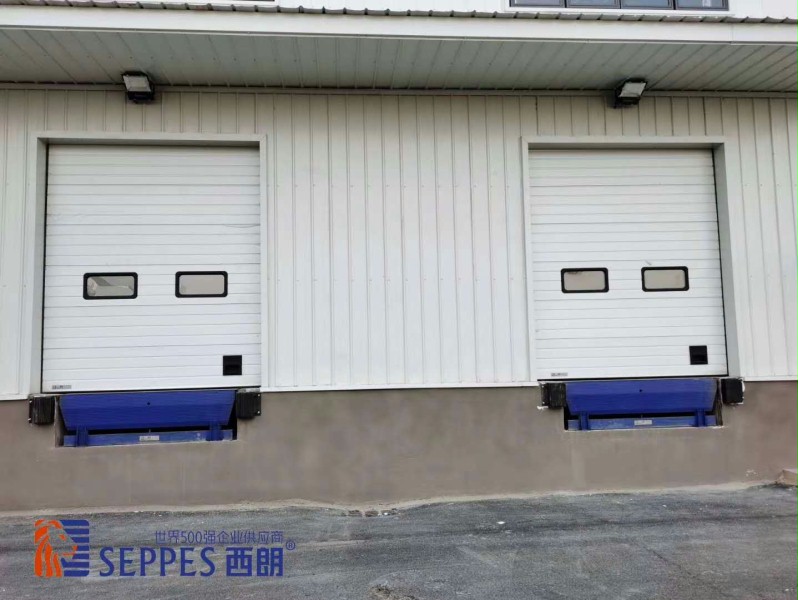 The industrial sliding door can open a small door in the door, generally people call it "door-in-door", this situation is suitable for the company factory to close the door for a long time, but the factory staff need to use the industrial sliding door to enter and exit . This not only ensures the service life of the industrial sliding door, but also facilitates the staff in the factory. However, some people may ask, if the small door is not closed, if the sliding door is opened, will the small door be stuck directly? The staff has designed to install a limit switch on the small door. When the small door is open, the industrial sliding door cannot be started, thus ensuring the safety of the door and people.
Around the industrial sliding door, SEPPES will also install door protection devices. On both sides of the door bottom door panel, SEPPES installers will install anti-falling devices. When the door body wire rope breaks, the door body protection devices on both sides The track will be stuck tightly to ensure that the door will not slide down and hit people. A sealing strip will be installed at the bottom of the door panel. The sealing strip is connected to the airbag protection device. When the door is closed, the bottom sealing strip will be pressed and the door will automatically stop running. The staff of SEPPES will continue to design and develop safe, beautiful and durable industrial sliding doors, so that customers can use the company's products safely and securely.