详细介绍
The door panel is made of double-layer steel plate or aluminum alloy, and filled with high-density polyurethane foam inside. It has the characteristics of impact resistance, wind resistance, thermal insulation and overall beauty. The electrical control of industrial lift doors is equipped with motor overload, overvoltage, overcurrent protection, etc. When used too frequently or blocked by obstacles, the motor protects itself. The door opener is equipped with hand and electric switching devices, which switch to manual door opening and closing when the power is off. The bottom airbag rebounds when it encounters obstacles, providing protection for safe use. It can be equipped with transparent window, door in the door and remote control. The door in the door is equipped with an interlocking device. When the small door is opened, the disconnect switch cuts off the control power and the door cannot be moved to ensure the safe operation of the door.
6 Outstanding systems:
1.Door panel system
Double-sided 0.45mm thick horizontal uneven striped high-quality steel plate, filled with high-density polyurethane foam (about 45KG/m³, without CFC), sturdy and durable, thermal insulation and sound insulation, and strong industrial beauty.
2. Sealing system
The top and both sides of the guide rail are equipped with EPDM sealing tape and the bottom seal of the α type, and the surroundings are fully sealed after the door is closed. The joint of the door panel is equipped with sealing rubber to block the heat and cold transfer and reduce the heat loss.
3. Balance system
The balance is ensured by the imported high-strength spring system, and the surface is treated with electroplating for corrosion resistance to achieve 30,000 cycles. The reinforced coupling is more stable with the steel shaft. Equipped with adjustable hinges and reinforced rails.
4. Transmission system
High-quality control system and electric door opener, can be customized frequency conversion intelligent system. Reserve multiple ports to meet the customization needs of interlocking linkage and remote control. Various pulleys made of metal and nylon.
5. Security system
When the torsion spring accidentally breaks, the protection device will react quickly and force the falling door to stop within 20 cm. The cable break protection device prevents the sliding cable break and the door body from falling. Optional bottom safety anti-pinch device that rebounds upon resistance.
6. Optional system
Optional window, door-in-door, lifting method, wind-resistant components, remote control, remote control, customized door panel color, infrared safety protection, and multiple induction door opening devices.
The industrial sectional door runs along the wall track, does not occupy too much workshop space, and has a beautiful appearance. It is the preferred industrial door product for modern industrial plants: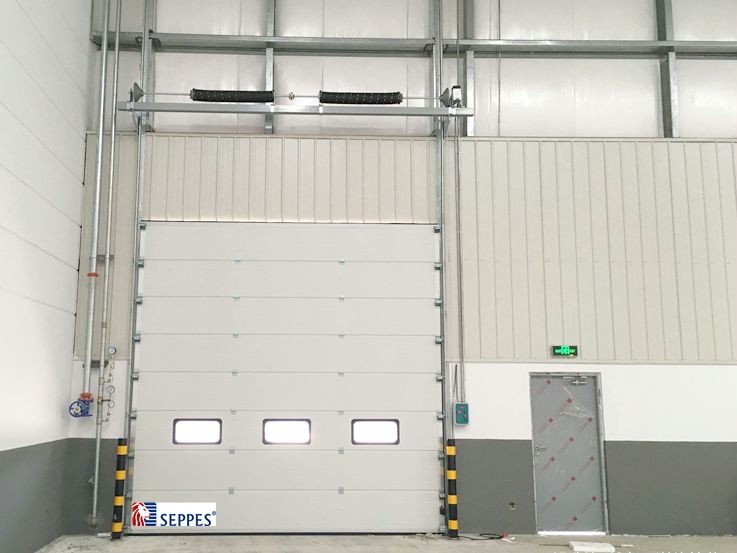 The thermal insulation performance of industrial sectional doors is very important. The thermal insulation door panel developed by SEPPES industrial sectional doors can better keep warm and prevent temperature loss. The following picture shows a professional thermal.

In addition,SEPPES industrial sectional doors can also customize the door-in-door design, and use the patented technology of small door anti-opening: