详细介绍
SEPPES focuses on technology development, design and manufacturing, sales and installation and after-sales service in the field of industrial doors. SEPPES has been continuously innovating with the high-quality product development concept of "precision, intelligence and swift", referring to European industry standards, and has mastered many core technologies. The series of products launched has led the market with new technologies and served customers with high quality, which has been recognized by the industry.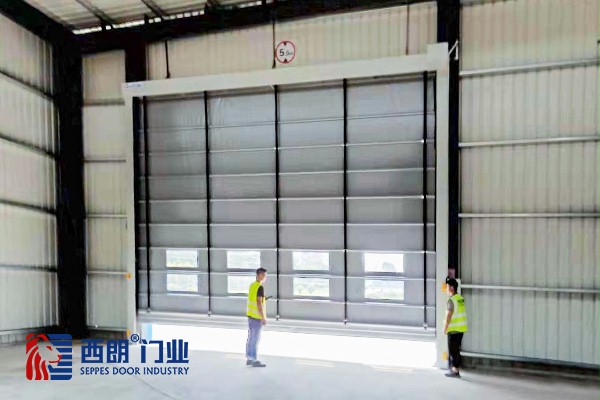 SEPPES stacked industrial fast door adopts folding lifting method and multiple built-in horizontal anti-wind levers. Its wind pressure can be evenly distributed on the whole curtain. Its anti-wind performance is much higher than that of ordinary drum-type high speed doors, especially suitable for logistics channels and The large area of the hole, plug-in curtains are easier to remove and more convenient to maintain.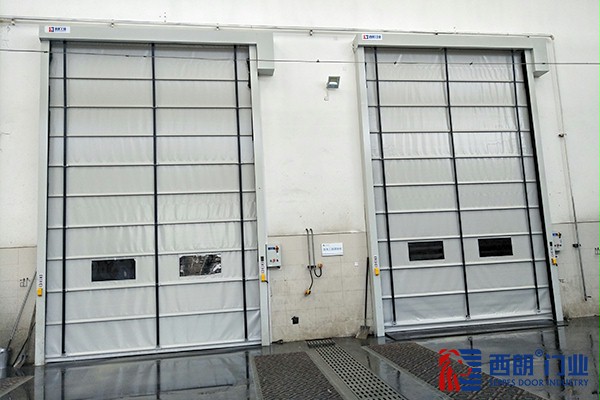 Product structure and technical performance:
Main box: It is made of high-quality cold-rolled steel plate or stainless steel, and is sprayed with static epoxy plastic grease.
Chute: use high-quality high-strength anti-oxidation industrial aluminum alloy or high-quality cold-rolled steel plate, sprayed with electrostatic epoxy plastic grease on the outside; a layer of resin is coated on the inside.
Curtain: High-density industrial base fabric for quick doors, with a thickness of 0.8-1.2mm, the fire rating reaches the European NF-P92-503 standard, a variety of colors such as yellow, blue, white or full transparency are available.
Working temperature: -30. C ~ 70. C.
Transparent window: The thickness of the fully transparent PVC film is 1.5, and the rectangle or oval can be selected, which increases the safety, transparency and aesthetics.
Safety performance: Infrared radiation safety protection; manual rocker can be opened and closed during power outage, which is more safe and convenient.
Sealing performance: The bottom end is equipped with a flexible PVC base cloth, which can be closely combined with various uneven floors. The interior is filled with cushioning materials to improve its durability. The door post is equipped with high sealing performance brushes to reduce noise and Increase the sealing effect.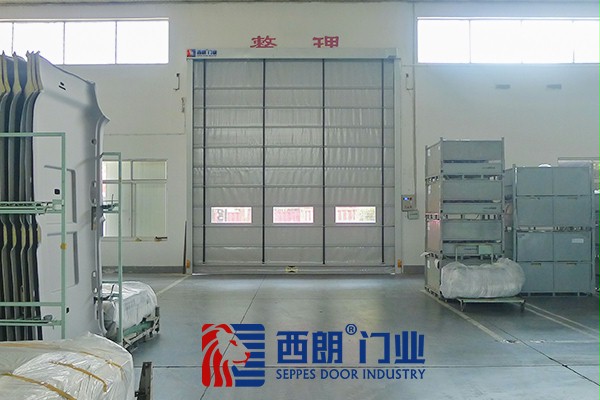 Power performance: high-frequency motor for fast door, three-phase 380V, 50HZ, IP55, power 0.75-2.0KW. Fast and efficient, low-noise new-generation transmission gear.
Permitted frequency: 120 times / hour, 2 times / minute.
Wind resistance coefficient: high speed roller door: 12Kg / m,
Strap stacking high speed door: 60Kg / m.
Optional accessories: infrared security system; geomagnetic induction system; radar induction system; remote control switch; window; frequency conversion control system, multi-door linkage control system, anti-collision bar, rope switch, signal light.
Roll: The roll part of the cord is made of cold-rolled steel plate or aluminum alloy drum with a unique cut shape, which can effectively prevent the cord from bending and deforming due to the excessive width of the cord to ensure the safe operation of the cord.
Curtain setting: The height of the curtain can be arbitrarily set to speed up the effective running speed of the curtain.