详细介绍
High speed cold storage door
The cold chain high speed door is a high-speed, zipper-type cold storage insulation high speed door, which not only opens quickly, but can also be used in an environment of minus 40 degrees.
Features:
High tightness, energy saving and high efficiency:
Zipper-style patented track technology and BEAD curtain technology combined with high sealing performance to achieve maximum energy saving
Self-repair, saving maintenance costs:
When the door is misaligned due to an impact, the "re-embedding" patented technology is activated, that is, the derailment automatic repair system will automatically reset to the original state without any manual or external force, effectively reducing maintenance time and saving usage costs.
The SEPPES curtain is soft and flexible, and the bottom of the door does not bear any weight, ensuring that in an emergency, even if the operator is not protected, it will not cause injury if it hits the door.
Push Pull dual shaft system:
The unparalleled safety record and absolute tightness lies in the Push-Pull dual shaft system. The traditional high speed door closing relies on the load at the bottom of the door curtain to achieve, while SEPPES can drive a dual-rotation system and make it perfectly mesh with the sprocket on the door curtain. The door can be closed quickly without relying on its own weight. A patented technology avoids the use of dangerous and hard parts.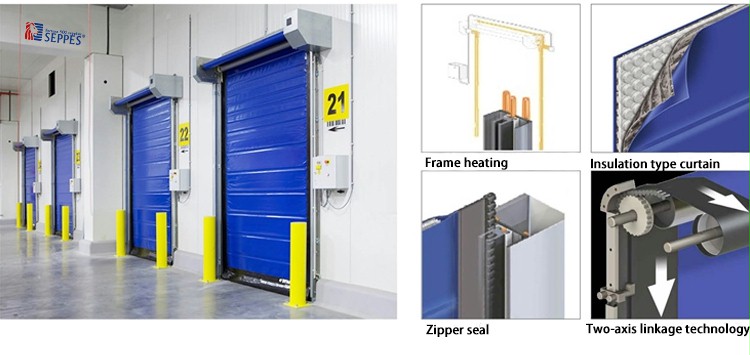 Durable performance of more than 1 million times
SEPPES high speed doors reduce the use of materials that are easy to wear. The strong and flexible curtains are very durable and can withstand millions of opening and closing operations.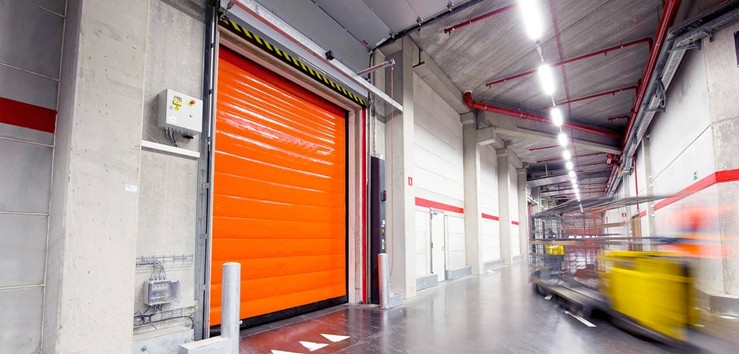 | | |
| --- | --- |
| maximum height | 5500 mm |
| Maximum width | 4000 mm |
| Opening speed | Up to 2.5 m/s (equipped with standard curtain) |
| Closing speed | Reach 1.2m/s (equipped with standard curtain) |
| Scope of use | Dedicated door for freezer |
| Technological innovation | Gear rack drive technology |
| Product Details | Reduce air exchange and save energy. The special door for SEPPES cold storage suitable for cold storage can allow vehicles to enter and exit the cold storage quickly and reduce temperature changes. Good sealing, reduce cold air loss and save energy. The insulated curtain on the door of the quick freezer can reduce condensation and icing. There is a big boundary between the warm outside temperature and the cold inside temperature. Reduce icing and avoid downtime. The low-power heating cable on the side doorpost of the special door for high-performance cold storage helps reduce icing and avoid downtime. Self-healing curtains ensure the long service life of the door. |
| Features and advantages | Save energy. Short opening time, tight sealing, can reduce air exchange and enhance refrigeration efficiency. Automatic and fast rotation can help improve the efficiency of the refrigerating room. Reduce frosting. Optional insulated door curtains and heated side wall columns can reduce costs. Time, reduced maintenance and extremely safe. There are no hard parts on the flexible door curtain. Long service life. SEPPES high-performance doors are equipped with very few wear parts. |