Advantages of high speed spiral door
From:high speed spiral door Author:Ada Publish time:2023-03-23 16:05 Clicks:3
High speed spiral door is a new type of fast door, a new type of metal industrial door integrating heat preservation, energy saving, sealing, high efficiency, wind resistance and environmental protection. The performance is a combination of the advantages of ordinary fast door and sectional door. Double-layer aluminum alloy door panels are filled with polyurethane foam materials. The total thickness is 40mm, and the height of a single door panel is 185mm.
1. The sealing performance is very good. The top, sides and bottom of the door are sealed with EPDM strips to prevent air circulation to the greatest extent;
2. The thickness of the door panel is up to 40mm, double-layer aluminum alloy door panel, the overall wind resistance performance is very good, usually the wind resistance can reach about 12 grades, because the door panel is relatively thick, and the interior is filled with polyurethane foam material, so the thermal insulation performance is also relatively good;
3. Compared with the lifting door, the opening speed is faster, the opening speed is 0.8m/s-1.5m/s, and the speed can be adjusted according to customer needs;
4. The safety configuration is complete, and the standard configuration includes infrared photo-electricity, safety bottom edge, and light curtain, no optional configuration is required;
5. The customizable opening methods are also very complete. According to customer needs, radar, geomagnetic, pull rope, remote control, Bluetooth, card access control, etc. can be selected.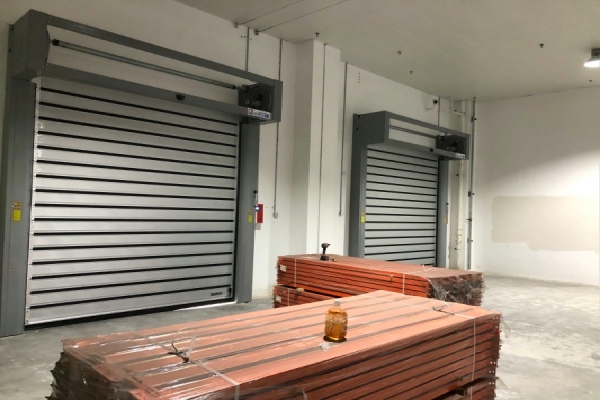 The high speed spiral door is currently the product that can meet the maximum needs of customers. It combines the advantages of ordinary fast door and sectional door. Relatively speaking, the price will be a little higher, but the cost performance is still very high. In the case of sufficient budget It would also be nice to optional for high speed spiral door.