Safety device for high speed spiral door
From:high speed door Author:Ada Publish time:2023-04-14 15:39 Clicks:1
The high speed spiral door adopts a lightweight double-layer aluminum alloy door panel, with a single layer thickness of 0.7mm, filled with high-density polyurethane foam insulation material inside, and the total thickness of the door panel is 40mm. The wind resistance strength can reach 12 levels, and the quadruple sealing structure technology has the characteristics of good thermal insulation performance, light weight, strong wind resistance, and good sealing performance. It is suitable for all scenarios that require frequent high-speed switching.
1. Infrared safety protection electric eye: there are radio eyes on both sides of the door frame, and there is an object under the fast door to keep the door open; when the door body is lowered, there is an object below it, and the door body will open to the most open position, and there will be no obstacles below. Object time and then delay the decline.
2. Bottom safety protection side: When the door body is falling, because the object is in the blind area of infrared safety protection, when the door body is pressed against the obstacle below, the door body quickly rebounds at the most open door, effectively protecting the objects below the user or Pedestrians avoid accidents.
3. Light curtain protection system: install a grating wall in the direction of the vertical position, which is usually composed of 18 groups of light heads, using 485 communication protocol, and calculate the position of the curtain according to the real height of the curtain body and give it to the past An effective measure for pedestrian or object protection.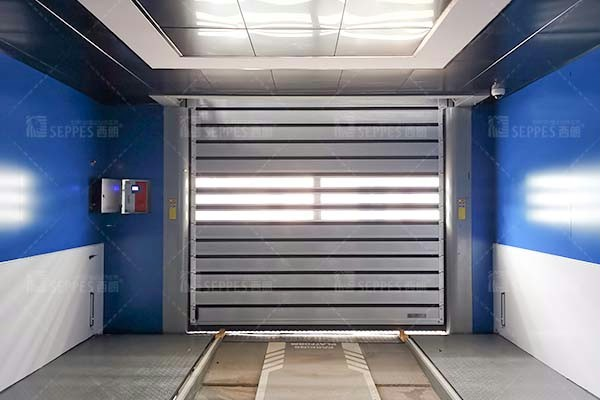 SEPPES high speed spiral door is a new type of metal industrial door integrating heat preservation, energy saving, sealing, high efficiency, wind resistance and environmental protection. Easy to realize manual door opening and closing operation. There are many customized solutions for this door type, which saves space in installation.