Basic Features of high speed stacking door
From:high speed door Author:Ada Publish time:2023-04-14 15:48 Clicks:2
High speed stacking door have many functions such as heat preservation, cold preservation, insect protection, wind protection, dust protection, sound insulation, fire prevention, odor prevention and lighting, etc., and are widely used in food, chemical, textile, refrigeration, electronics, printing, supermarket refrigeration assembly , precision machinery, logistics and warehousing and other places, suitable for logistics channels, large-area openings, and interior and exterior doors with high windproof requirements.
Quick opening: stacking and cascading opening and closing, opening speed 0.8-1.6m/s; closing speed 0.5-1.0m/s.
Heat preservation and energy saving: The quick opening and closing function of the door improves the effect of cold and warm heat preservation in summer and winter, reduces energy loss and saves energy.
Sealing and isolation: The bottom is equipped with an elastic PVC base cloth air seal, which can be precisely combined with various uneven grounds and can reach the ten thousand-level standard. The door post seal uses a unique double-layer brush to increase better sealing. The unique sealing system and efficient sealing method can block the movement of hot and cold air to the greatest extent, prevent the entry of external dust and insects, and effectively isolate the transmission of odor and noise.
Safety performance: The door frame and door box are made of 2.0-2.5mm thick high-quality cold-rolled steel structure, high-quality baking and painting process; 2.0-2.5mm thick stainless steel or 3.5mm high-strength 6063 anti-oxidation industrial aluminum alloy columns.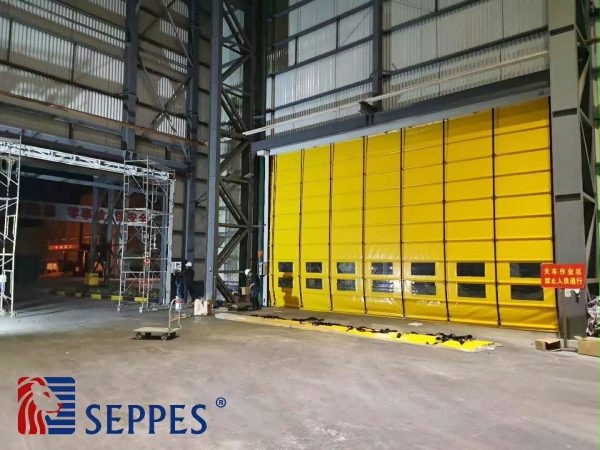 The high speed stacking door can meet the needs of high-performance logistics and clean places, save energy, improve air-conditioning effects, automatically close at high speed, and improve efficiency.