Installation of high speed door in the buffer zone of conveyor lines
From:high speed door Author:Ada Publish time:2023-09-22 16:52 Clicks:0
I believe everyone knows the conveyor line; it is an intelligent device mainly used in industrial production workshops to transport products. It is mainly used to transport products from one work area to another, or from the feed port to the top of the production equipment. . During the transportation process, work areas with different environmental requirements will pass through. A buffer room with a high speed door will be built in the middle of the two processing areas for isolation to ensure that the environment in different areas will not be affected by the process of transporting products.
1. The high speed rolling shutter door can be linked with the conveyor belt. When the products conveyed by the conveyor belt reach the rolling shutter door, the fast rolling shutter door will automatically open; then the goods will be transferred to the buffer room, and the opened rolling shutter door will automatically close. The entire opening and closing process is completed automatically, which greatly increases the frequency of incoming and outgoing goods and increases the production capacity of the workshop.
2. Double-door interlocking: To ensure that the environment of different workshops is not affected by crossing, the fast rolling shutter door of the conveyor line needs to be equipped with a double-door interlocking function. When the No. 1 rolling shutter door is opened, the No. 2 rolling shutter door is closed. When the No. 1 rolling shutter door is closed, the No. 2 rolling shutter door automatically opens and is always in an open and closed state. It can effectively maintain a clean environment in the workshop.
3. Rapid opening and closing function: The conveyor line rapid door adopts SEPPES servo electronic control, with an opening speed of 0.8-2.0 meters/second. In other words, the 3-meter-high door can be fully opened in about 4 seconds, ensuring the smooth flow of logistics channels.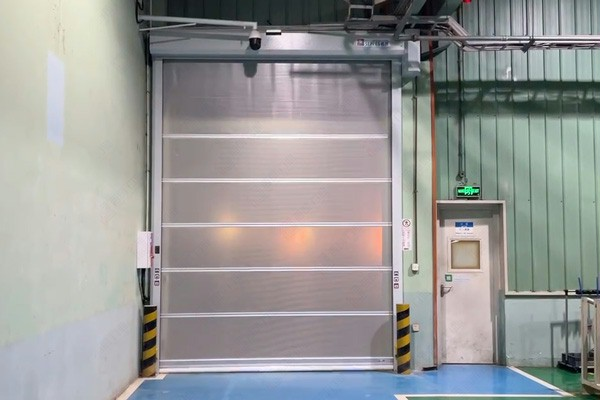 Conveyor belt high speed door play an important role in modern logistics, not only improving production efficiency, but also ensuring a clean and safe working environment.